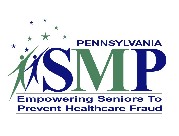 Each year, over $60 billion are lost to fraud, errors, and abuse in Medicare.  Money lost to fraud means fewer dollars available for needed services and decreased quality of care for all.
CARIE, as a part of its mission to improve the quality of care older people receive, began the Pennsylvania Senior Medicare Patrol program (PA-SMP) in 1997.  Originally developed by The Administration on Aging (AoA), a division of the US Department of Health and Human Services, there is now an SMP program in every state and US territory.  SMPs provide education and advocacy to seniors and caregivers to prevent Medicare fraud using three key concepts: PROTECT, DETECT, REPORT.   To contact an SMP program outside Pennsylvania, please visit the national SMP Locator.
Presentations for groups
PA-SMP volunteers give fraud prevention presentations to seniors, caregivers, and others at senior centers, faith communities, and other venues across Pennsylvania.  Audiences are given real-world examples and education on how to protect themselves and Medicare, how to detect fraud, and where to report it.  Volunteers also staff tables at health fairs and senior expos.  If you are interested in having a speaker or would like educational materials, please click here for our online contact form or call 1-800-356-3606.
If you are interested in becoming an SMP volunteer, please visit our volunteering page here.
Medicare fraud complaints
If you suspect Medicare fraud in Pennsylvania or have a question about Medicare fraud or abuse, call the SMP at CARIE at 1-800-356-3606 or use our online contact form here.  Not sure what Medicare fraud looks like?  Here are some examples:
Your Medicare Summary Notice (MSN) shows a charge for a service or piece of equipment that you didn't get or shows that Medicare has been charged for the same service twice.
Someone calls you on the phone and says they are "from Medicare" and asks for your personal information such as Medicare number, social security number, or bank account information. Remember, Medicare will *never* call or come to your door and ask for your personal information.
Complaints referred through CARIE's SMP really do make a difference!  For example, Mrs. Jones* called CARIE when she read her MSN and discovered charges for a home health visit that she had never received. Mrs. Jones' call resulted in an investigation and the recovery of over $66,000.
Scam Alerts
PA-SMP provides a free scam alert called the ScamWire™ to seniors, caregivers, professionals, and anyone else who would like to get information about emerging scams affecting our seniors.  Through our partnership with home-delivered meals programs, ScamWires reach over 30,000 homebound seniors across PA, in addition to state and local representative's offices, Area Agencies on Aging, and many others.