CARIE was founded in 1977 by a coalition of groups and individuals, including the Friends' Committee on Aging, the Lutheran Council on Aging, and the Grey Panthers. Originally conceived as a project of the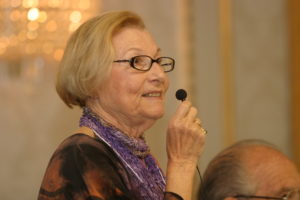 Public Interest Law Center of Philadelphia (PILCOP), it was funded by the U.S. Department of Health and Human Services, Administration on Aging. In 1979 CARIE incorporated as a 501(c)(3) organization and was initially supported as a VISTA volunteer project. Pictured to the right is CARIE's founding Executive Director, Bernice Soffer, who served from 1979 -1995.
Scope – Statewide Organization – and Beyond
CARIE's programs extend to the entire state of Pennsylvania and beyond. CARIE is a leader in providing direct assistance to the elderly, their families, and professionals in the aging field. Through telephone contacts and site visits to Philadelphia-area long term care facilities, the agency assists older people and their caregivers to assess needs, identify service resources, and make the necessary connections to resolve elder care issues.
Pioneer in the Service Mediation Approach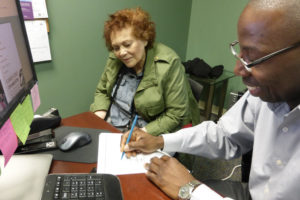 CARIE has pioneered the service mediation approach whereby agency staff intervenes at points of crisis, bolster the family's ability to cope, and help caregivers to understand and pursue the best available options for elder care. Through its on-going system wide advocacy, CARIE has developed a national network of contacts, including service providers, policy makers, elected officials, and consumers.
Commitment to Improving the Service System
In addition to its direct service activity, CARIE is committed to improving the service system. Its community education program works to raise public awareness through informational brochures, a speakers' bureau, a periodic newsletter, and public service announcements. Advocacy is also accomplished through its many members and committees. Issues are identified by the committees then organizing strategies are developed by the committee. This work has been instrumental in having Older Adult Protective Services legislation in Pennsylvania and has also worked to reform guardianship laws and provide for advance directive legislation. It has worked to shape regulations in long-term care to support consumer rights and access to care.
CARIE Receives Awards and Recognition
In the fall of 2004, CARIE was recognized by Citizens Bank and NBC 10 as their "Community Champion" for the Elderly, the first of these quarterly awards to be approved unanimously. In March of 2005, CARIE was s
elected to receive its second Community Health Impact Award presented by Glaxo SmithKline. Its first IMPACT award was received from then SmithKline Beecham in 1999, a year in which CARIE also received the Governor's Silver and Gold Award for Enhancing the Image of Older Persons. CARIE's professional training curriculum, Competence With Compassion, has been honored by the American Society on Aging and the Brookdale Center on Aging with a Best Practices award and by the American Public Health Association's Archstone Foundation Award for Excellence in Program Innovation. Pictured to the right is CARIE Long Term Care Ombudsman Volunteer, William Magwood receiving an award for his outstanding volunteerism from the state of Pennsylvania in 2016.