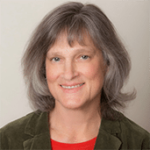 A Message from the Executive Director
Our Commitment During COVID-19
Over the past weeks, as our office closed and our staff made the shift to working remotely, CARIE has remained resolute in our commitment to serve every older adult, family member, and caregiver reaching us for help.
CARIE's skilled, experienced, and dedicated staff continue to help ensure that older adults – many of whom were physically and economically vulnerable before the arrival of the coronavirus, and who now are among the most vulnerable to the wages of the pandemic – are able to access the vital services and supports they need.
In a time of social distancing, self-isolation, lockdowns and quarantine, CARIE staff are available to address the concerns of older adults, many of whom live alone, and provide necessary guidance through the resolution of the issues, whether that means providing a phone number for a needed service or helping to navigate a complex system that may feel overwhelming to manage alone.
The words we often hear from those we have assisted, and what we proudly believe captures the CARIE difference, are:  "Thank you for listening." Listening is at the heart of our work, and it has never been more important than it is right now.
We have posted several infographics on our website with valuable information and links to resources where you can get up-to-date information as well as resources to help with the emotional and psychological stresses of the crisis and isolation. Please visit them here. As always, please reach out to us at 215-545-5728 / 800-356-3606 with any questions or concerns.
I send my sincerest wishes for the good health and safety of our community as we meet this challenge together.
Best regards,
Diane A. Menio