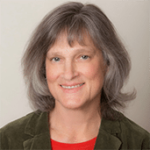 A Message from the Executive Director
On March 13, 2020 the Pandemic changed the way we work but we didn't skip a beat. Through the commitment and flexibility of our wonderful staff and the support of our funders and friends we have continued full force in our advocacy and assistance on behalf of older adults who are COVID19's most vulnerable victims. Staff and our volunteers have been very creative in using technology to assist and inform elders and their caregivers, professionals, and community members on issues of critical importance.
Nowhere has the impact of COVID-19 been more devastating than in long term care facilities. From the very beginning of the crisis, CARIE has called on policymakers to take steps to effectively address the risks to residents' physical health and the devastating toll of extreme isolation that prevents contact with family that is so essential to their well-being. Our issue briefs and calls to action on these issues are available on our website at www.carie.org/covid.
Having witnessed the impact in long-term care, we believe that Pennsylvania and all of us have learned a great deal about how to manage during a crisis.  At the beginning, residents were not afforded their most basic rights including to have visitors, even family.  In addition, they were isolated due to COVID restrictions; no longer able to attend activities or have a meal with their neighbors and as they watched other residents and staff decline and die, they were terrified for their friends, family, and themselves.  Sadly, many are still isolated without family by their sides.  We must do better.  Along with our colleagues, we have taken one step in changing the future by reviewing and making significant recommendations for change in Pennsylvania's nursing facility regulations to protect residents and make their environment safer.  Please join us in advocating on behalf of long-term care residents – you can see our full recommendations here.
On behalf of all of us at CARIE, I express our deep gratitude for the support that makes possible our work to ensure the dignity, rights, autonomy, and well-being of older adults. If you have any questions, or know of an elder who needs assistance, please feel free to contact me at [email protected]. I send my best wishes for a very happy and healthy 2021.
Best regards,
Diane A. Menio