Advocacy Alert – Improve PA's Nursing Home Regulations
The Pennsylvania Department of Health (DOH) released the first of five packages of proposed nursing home regulations. The regulations have not been updated since the 1990s. Updating the regulations to make comprehensive improvements in standards is needed now more than ever!  We urge you to comment on the proposed nursing home regulations to advocate for a comprehensive change in the outdated regulations to help improve the standards of care. Action required by Monday, August 30, 2021.  Updated information will be posted with the release of each additional package of proposed regulations.  Read more in our Advocacy Alert about how to submit comments and other background information.  Here are the comments we submitted.
---
CARIE and Community Legal Services of Philadelphia have been advocating for critical COVID-19 related policy change in Pennsylvania's Long Term Care (LTC) facilities and have organized "PA Advocates for Improved COVID-19 Response in LTC Facilities" to coordinate advocacy efforts among leading advocacy groups in Pennsylvania in response to the crisis. Please read our call to action, Immediate Actions Pennsylvania Must Take to Address the COVID-19 Crisis in Long-Term Care Facilities, that includes over three dozen recommendations.  An Executive Summary, Recommendations Chart and a Combined Position Paper are also available for review.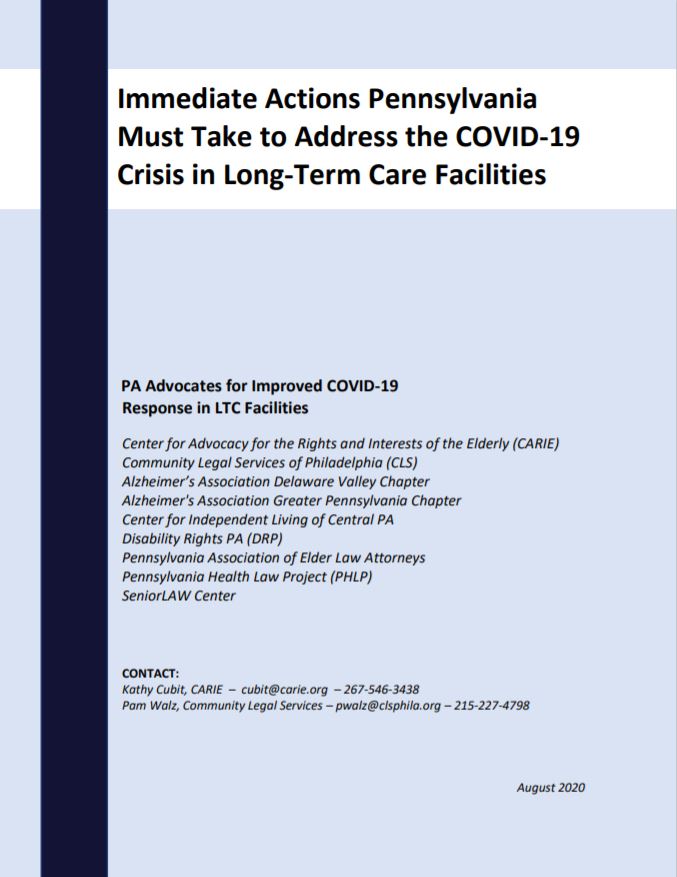 Advocacy Addressing Racial Disparities in Long Term Care Facilities

Pennsylvania (PA) Nursing Facility Regulations Advocacy
Updates to PA's nursing home regulations are needed now more than ever.  These regulations have not been updated since the 1990s.  The PA Department of Health (DOH) is responsible for inspecting nursing homes and ensuring facilities meet both federal and state standards.  COVID-19 has shone a bright light on the problems that currently exist in the outdated regulations.  Some provisions do not meet current best practices, while others do not comply with current minimum federal nursing facility regulations.
Since DOH is apparently working to update these regulations, CARIE, Community Legal Services, David Hoffman & Associates, Disability Rights Network, PA Health Law Project, and the SeniorLAW Center wrote to Secretary Levine and other state officials with recommendations to improve the regulations.  We plan to advocate for these needed changes as the regulations are revised.
Recommendations to Improve Pennsylvania's Nursing Facility Regulations:
Other advocacy includes: